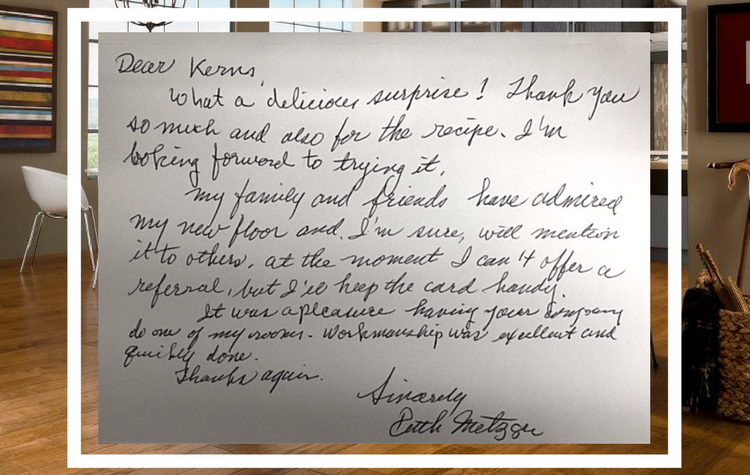 Dear Kerns, What a delicious surprise! Thank you so much and also for the recipe. I'm looking forward to trying it. My Family and friends have admired my new floor and I'm sure, will mention it to others, at the moment I can't offer a referral, but I'll keep the card handy. It was a pleasure having you do one of my rooms. Workmanship was excellent and quickly done. Thanks again.
---
Very happy with my new carpeting & LVP flooring. Excellent sales person - Shannon - fantastic installers! Thank you all so very much!

- Barbara W.
The installer was more professional and cleaned up better than either the electrician and the plumbers that worked here. Very pleased with sales & installation.

- Brynne P.


Chris was friendly and very efficient and knowledgeable. Did a fantastic job of our vinyl plank flooring and carpeting. Awesome installer!

- Coleen B.


Dennis the installer was amazing. He took his time matching the pattern of the carpet. The seam is invisible. Best carpet install we've ever had done - and we've had a lot in the past years. He is #1 in my book. Took his time and was so clean.

- Lynn. L.


Sales reps were super helpful, accommodating, and patient with how long it took for us to make buying decision. Perry, the installer, was excellent; explained how to make adjustments for "out of square" stairs, hard worker with pleasant and happy personality.

- Julie B.


We can't say enough about John our sales rep and Tony our installer. Based on our experience, we will definitely do all of our flooring work Kerns. Both John and Tony were extremely knowledgeable and had great customer relation skills. We felt very comfortable with both of them and because of them Kerns - Brookfield is now our flooring source!!

- Joan and Steve Z.


John Guilford was exceptionally efficient, helpful, and kind during this emergency purchase to restore our home from damage caused by sewer backup. Perry, the installer, was also most helpful with the installation.

-Mary S.


Keith was great with sales. We've used him on a couple of occasions now. Tony was great with the installation.

- David M.


Awesome, helpful and pleasant salesperson, John. He made our carpet buying easy with his knowledge and recommendations. Our installers were excellent, professional and did a great job. And they were actually pleasant to have in my house - HARD WORKERS.

- Patti H.


Tony did a great job helping navigate our installation. There was an issue in the basement with glue vs. tacking and padding. Michael brought out padding so I wouldn't have to reschedule a 3rd installation time (the first time, we discovered asbestos tile under the carpet).

- John H.


We are so happy with the job the installers did. Walt and his team (Scott, Adam, Kevin, Travis, Jeremy, and Kayla), did all three of our flooring jobs. They were excellent! Very professional and skilled, very polite and pleasant. You can tell they know what they are doing. Our house has been transformed and up to date. Michael Kerns also excellent, he helped us make the right choices.

- Lori K.


I enjoy working with Rachel. She is knowledgeable and helpful. Our installer Tony did a great job and the end result is exactly what we hoped for.

- Jeffrey S.


The installers were exceptional. Involved us in the process by asking questions. Went way out of their way to accommodate us by painting our baseboards once they realized that the carper had a shorter pile and would reveal unpainted wood. We couldn't have been more pleased.

- Susan & Marc H.


The installers were very efficient and did a wonderful job. Even came out on an icy snow storm day and got the job done in a day.

- Dave & Sue C.


Keith was great to work with in the store and with phone calls, the two installers were also wonderful to work with - very helpful with unique floor situations (I had some holes in the old flooring that they covered up)... The Installation was great and very exact cutting plywood board on entryway exact match, appliance moved and put back perfectly, and done in only a couple hours - very professional and courteous.

- Kristina P.


Today the weather was awful and all the schools were closed. The installers were to arrive at 8, but came about 9:30. I didn't know if they would make it or not. They worked really hard when here and the job looks great! Luckily my husband had plywood and tarps to put in our living room so they could do the needed cutting. You can never count on WI weather.

- Susan M.


John was very helpful through the selection process and he offered us numerous options. Victor and his partner were extremely efficient and thorough. They were very kind and incredibly helpful. Grateful Kerns employs such great people to work with!!

- Anonymous


We are a past Kerns customer and would not shop anywhere else. That's why we used Kerns. Also, our sales specialist, John Guilford, was great wot work with and I would highly recommend him to anyone.

- Thomas & Marian R.