Custom Area Rugs
Kerns Carpet One Floor & Home in Mequon and Brookfield, WI is your local source for all things flooring, and that includes area rugs. An area rug can protect a floor, absorb sound, and add comfort. You can choose an area rug that matches your home décor, or you can choose a rug to be the focal point of your room. Area rugs are able to adapt to different rooms because they are easy to place in any space and can be moved, rotated, or removed from a room if desired. We have rugs that are available in many different shapes, sizes, fiber materials, textures, colors, patterns, and more so you can create a truly custom area rug.
Any size and any fiber, Kerns is your local custom area rug store!
We can custom bind area rugs to fit any space in your home, whether it is shaped normal or awkward. We offer surging and binding services along with with special backing for the rug. There are many benefits to having a custom bound area rug. You are not only saving on cost, but you can also choose from carpet remnants and save even more. Custom area rugs allow you to choose the dimensions, shape, and in some cases style of the rug, making it something all your own and unique to your home.
Custom Stair Runners
Do you love your hardwood or luxury vinyl flooring, but want to protect those floors from the constant traffic of stair and hallways? Consider investing in a custom rug runner for your stairs and hallways. Hardwood and luxury vinyl flooring is durable, but over time the constant traffic can dull the surface. Instead of covering those beautiful floors with carpet, rug runners get the job done while still showing off your floors.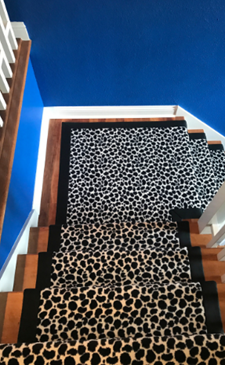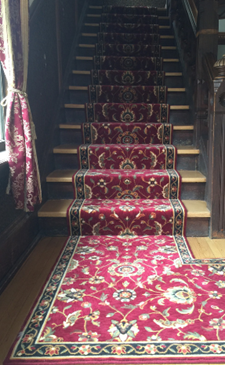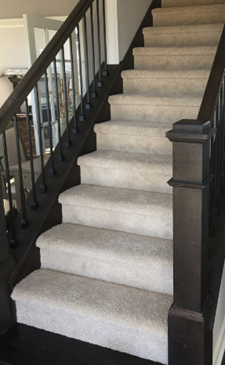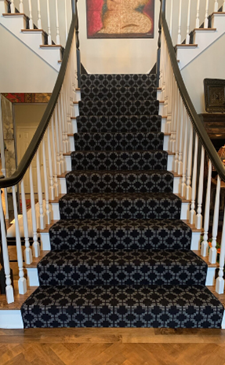 Custom Rugs with Logos
Kerns Carpet One even does custom area rugs with logos! If you have a favorite team you want to show your support to, or if you have a business you want to promote, we can create a custom rug with your logo or your team's logo. Be sure to visit our showroom to get full details and pricing on rugs with custom logos.
A Real Page -Turner
Stop the presses! Rachel and Shannon, our amazingly talented designers, were recently featured in the January 2019 edition of MKE Lifestyle magazine, where they shared their ample area rug expertise. With these two new "celebrities" in our midst, now is the perfect time to plan a visit to our store and get their expert advice on your upcoming design project.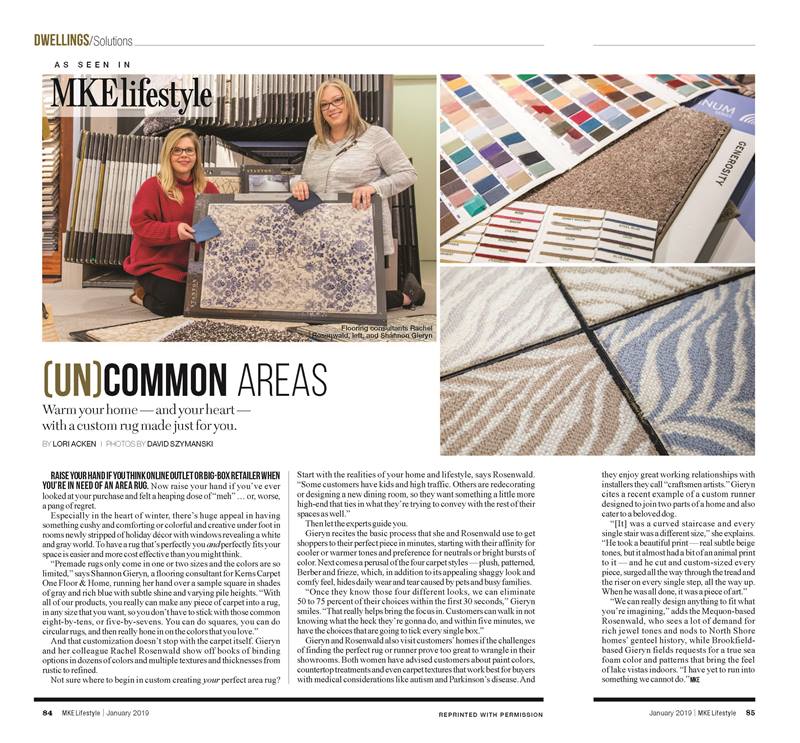 Stair Runners & Area Rugs