Commercial Carpet Tile
Life moves at a different pace in the business world: is your floor up to speed? Carpet tile is a beautiful way to combine all the things you love about carpeting and tile, with its comfort, endurance, and customization potential.
At Kerns Carpet One Floor & Home in Mequon and Brookfield, WI, we're the region's favorite source for smarter commercial flooring. Our carpet tile collection spans all of the hottest trends and classic styles, with a resilience that can handle your rush hour.
Why Commercial Carpet Tile?
Carpet tile works well in many different commercial environments, as many of our loyal clients can attest. Our many satisfied clients span a wide range of commercial and business sectors, including hospitality, restaurants, retirement facilities, corporate offices, Main Street small businesses, and so many others.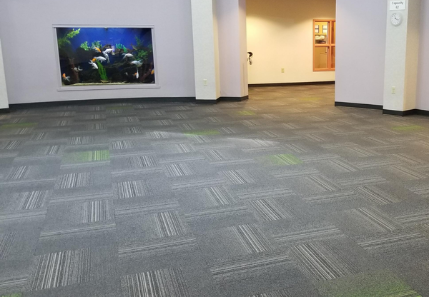 One of the things we love most about commercial carpet tile is its longevity potential. While repairs are bound to happen as time moves on, the process is a lot more affordable and more straightforward when you have carpet tile. Damaged sections can be replaced as needed. Carpet tile is dense, colorful, and often moisture-resistant. It's inherently designed to manage the heaviest foot traffic, conceal footprints, and repel debris. Best of all, it's relatively easy to keep clean.
Our Commercial Carpet Tile Collection
Our current inventory spans hundreds of different commercial carpet tile products, so please call on us when it's time for an upgrade. We trust you'll find our variety unmatched and every project completed with your convenience in mind.
Learn More
Are we considering carpet tile for your business or office? Today, please call us to chat with one of our commercial flooring experts, or stop by one of our two local showrooms soon.
To discuss your upcoming commercial project, you can also email Bill Kerns directly: billk@kernscarpets.com
Our Commercial Installations