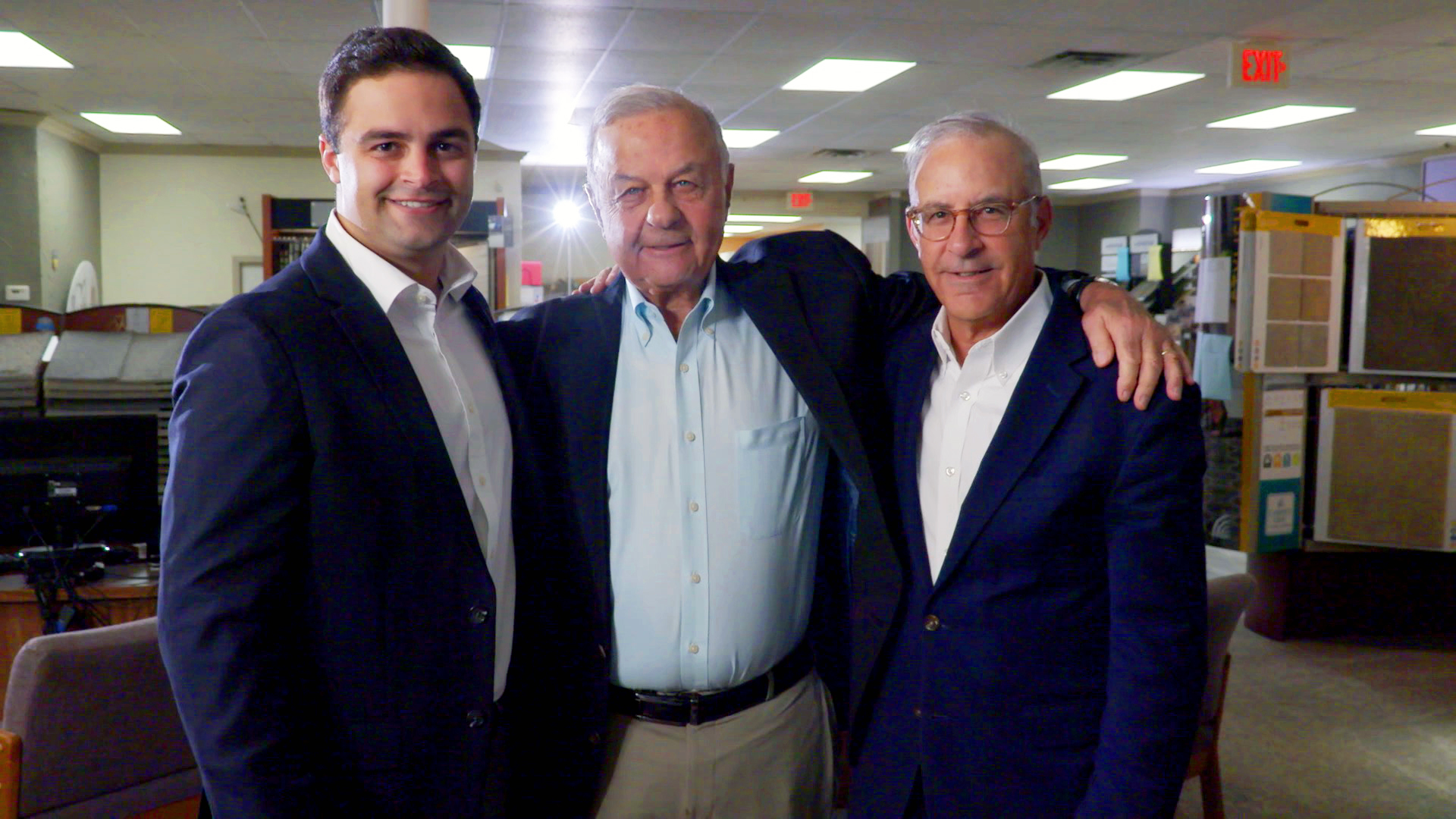 A member of the national Carpet One network of independent floor covering dealerships, Kerns Carpet One Floor & Home has a longstanding reputation for providing expert advice. Service is a family tradition. Our story began in Milwaukee, when a young Milton Kerns opened our family's initial store back in 1935. Covering four generations, we continue to rank among southeastern Wisconsin's most visited floor covering retailers.
Today, son Henry "Pat" Kerns serves as Chairman of the Board and Bill Kerns as President for all Kerns Carpet One's metro-Milwaukee locations. The Kerns family and its staff's focus is on furnishing the ultimate in customer satisfaction. With over 80 years of expertise, we can offer you so much more than the big box stores and in-home sellers. Our sales professionals are trained to ask the right questions, guide you through our easy-to-understand selection systems, and work with you to create exciting solutions. Flooring is our first language, and therefore we say, "You'll have no concerns when you buy from Kerns."
As your local flooring retailer, our community is very important to our business. When we received a call from one of our local schools, we jumped to help. The band needed carpet squares that the orchestra classes could use to keep the kids' cellos, upright bases, and other instruments' legs from slipping out from under them. We figured carpet squares would still slip a bit, so we donated some Durahold area rug pad that has a no-skid backing on it.
Of course, we also have a strong passion for giving back to those who deserve it the most: our service members. These selfless individuals put their lives on the line for us, and now it's our turn to help them. The Stephen Siller Tunnel to Towers Foundation helps our most catastrophically injured service members gain more independence by giving them mortgage-free smart homes.
Every year, we pull together the data from customer surveys that we send following every installation. Recent results indicate the sheer level of respect and the confidence our customers have in our staff. On average, 97% of our customers say they would recommend us to a friend, relative, or neighbor, 98% said they thought our sales professionals were knowledgeable about our products, and 98% said that our sales professionals made them feel comfortable and confident with their flooring selection.
"About a week ago, we had a Kerns carpet delivered to our door by your service man, Mr. Medina. It is not often that I find myself writing to congratulate a business for the quality of their services, especially for out-of-store deliveries. But Mr. Medina did such an unusually fine job of instructing us on the quality of the carpet and of the way it should be installed. He is also very friendly and polite in his business manner. I congratulate Kerns carpet for providing to its customers a carpet installer of the quality shown to us by this man. It reinforces our decision to have purchased this carpet from your company and encourages us to return in the future." - John G.
We hope you will visit one of our metro-Milwaukee locations and give us the opportunity to service your flooring needs and utilize our services. Stop by one of our convenient area locations for all the details. If you can't make it in, we'll bring our store to you. Just call the location of your choice or schedule your Shop At Home appointment today.
Learn More About Our Flooring Store
Flooring Services

Home Builder and House Flipping Services
Insurance Work
Kitchen and Bathroom Design
Interior Design Services
Moisture Testing
Restoration Services

In-Store Products

Carpet Padding
Carpet Remnants
Wall Planks
Custom Backsplashes
Custom Tiled Showers
Heated Flooring Systems
In-Stock Product
Natural Stone Tile
Shower System
Areas Served
Brookfield, WI | Elm Grove, WI | Butler, WI | New Berlin, WI | Big Bend, WI | East Troy, WI | Summit, WI | Cedarburg, WI | Mequon, WI | Grafton, WI | Belgium, WI | Port Washington, WI | Thiensville, WI | Milwaukee, WI | Menomonee Falls, WI | Delafield, WI | Muskego, WI | Wales, WI | Hartland, WI | Sussex, WI | New Berlin, WI